Kaituna River Re-Diversion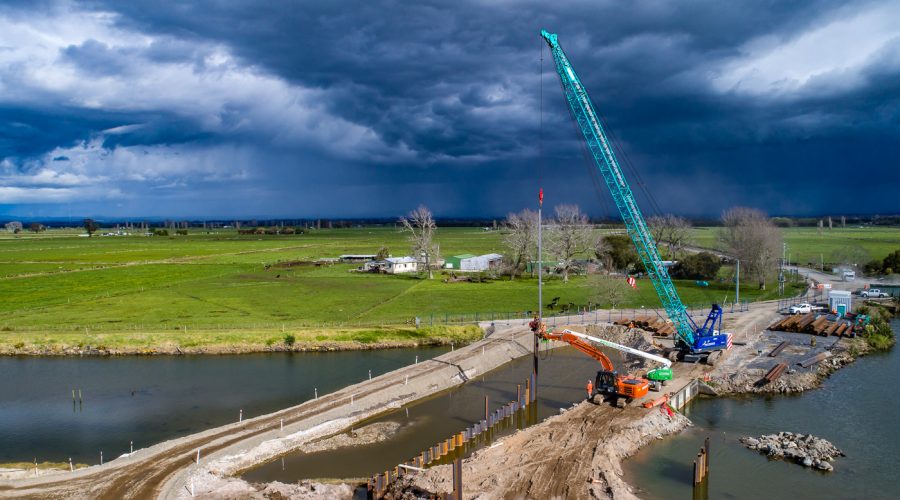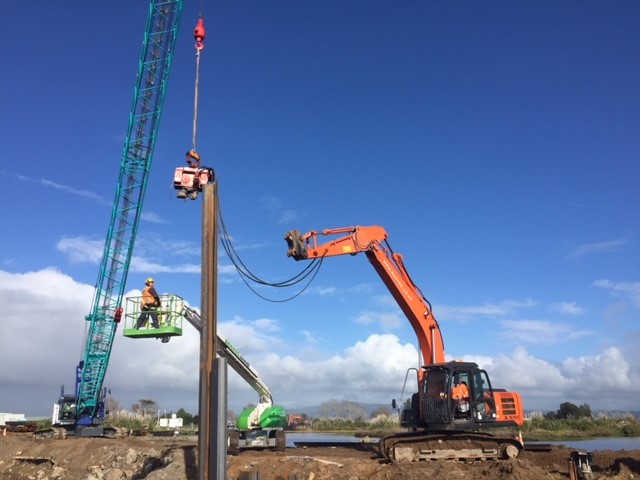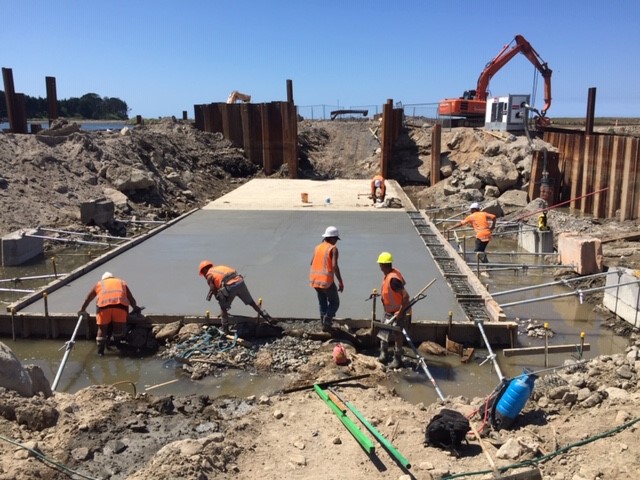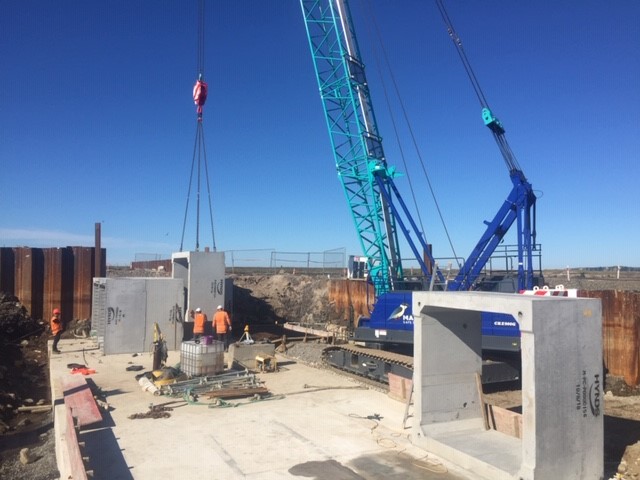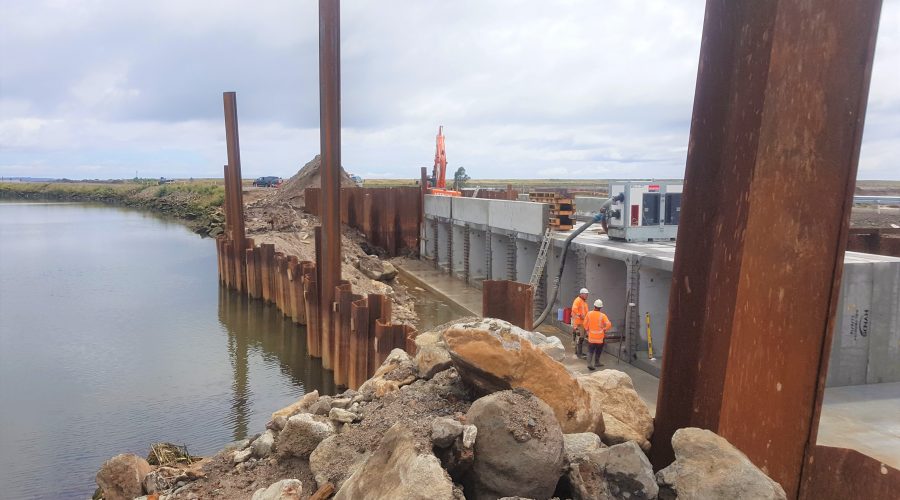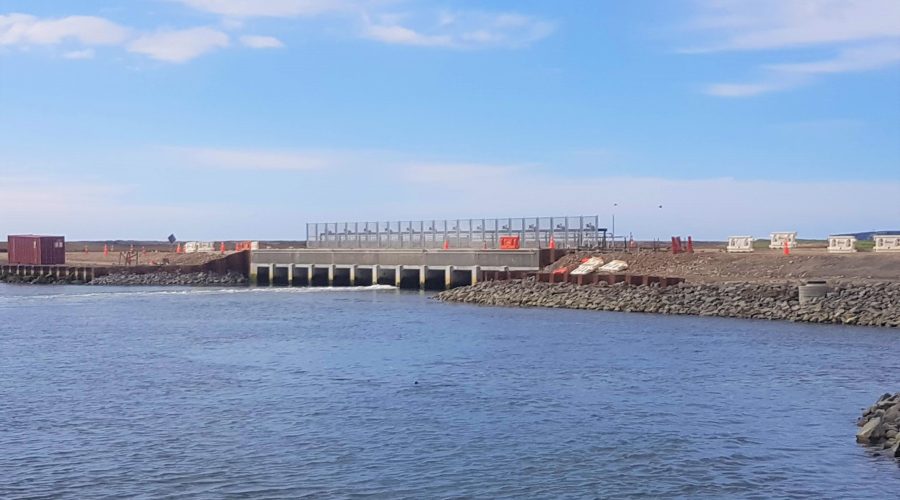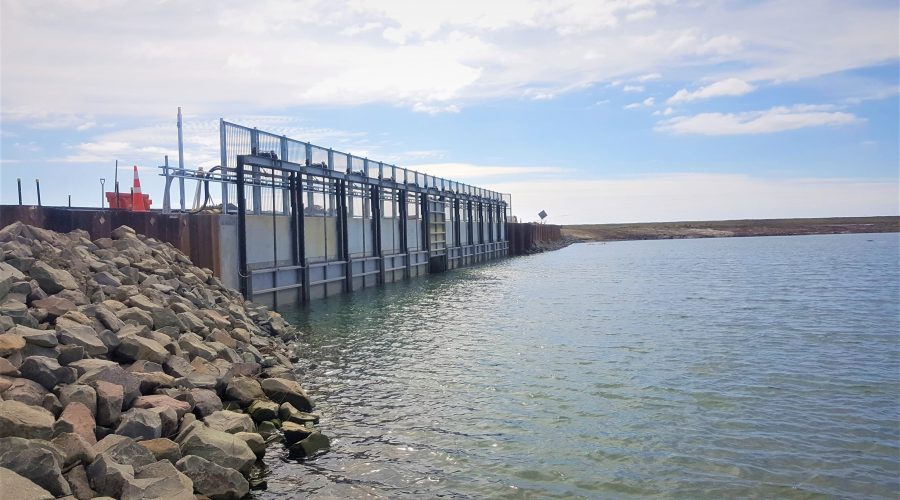 MAP was engaged by JSwap Contactors to complete the structures work on the Kaituna River Diversion near Maketu, Bay of Plenty. This involved a large box culvert bridge structure through a body of water, concrete boat ramp, and timber jetties.
To construct the bridge MAP first installed approximately 250m of sheet pile coffer dam and pumped the work area dry. This was installed using MAP owned 12m long steel sheet pile, vibrating hammers and the 90t crawler crane. At high tide the sea level was 3.5m above the base of the coffer dam. Our experienced piling crew installed the sheets accurately to ensure leakage was kept to a minimum and allow the work area to be pumped dry at all times.
The existing structure was demolished and removed from site. Permanent sheet piles were installed under the new base before a thick reinforced concrete base was constructed. 64 Precast concrete 2.5 x 2.5m box culvert sections were placed on the slab using the MAP crawler crane and experienced rigging and lifting crew. The culvert structure measured 40m in length and 6.5m wide. Precast elements were locked into place by a number of reinforced concrete pours. Slabs were poured up and down stream, vertical ties were poured between each section, plus a number of rib tie-ins were poured on top. A sheet pile wing wall was installed. Once the work was completed and signed off by the engineer a subcontractor competed flood gate installation, then the coffer dam was removed and the bridge structure became operational.
The boat ramp consisted of both insitu concrete pours and precast slabs which MAP cast onsite. The area was first dewatered by installing a sheet pile coffer dam and pumped dry. Earthworks and hard filling were completed before placing the precast slabs at the lower end of the boat ramp. The top end of the boat ramp consisted of insitu reinforced concrete pours. The precast slabs were stitch poured with insitu concrete. Timber piling for the two jetties were completed by MAP before MAPs carpenters completed the timber board walks for jetty construction. MAP designed and built a floating pontoon structure to allow work crews to access the on-water works.
Back